Governor of the Eastern Province Honors Mujassam Watan Award's 4th Cycle Winners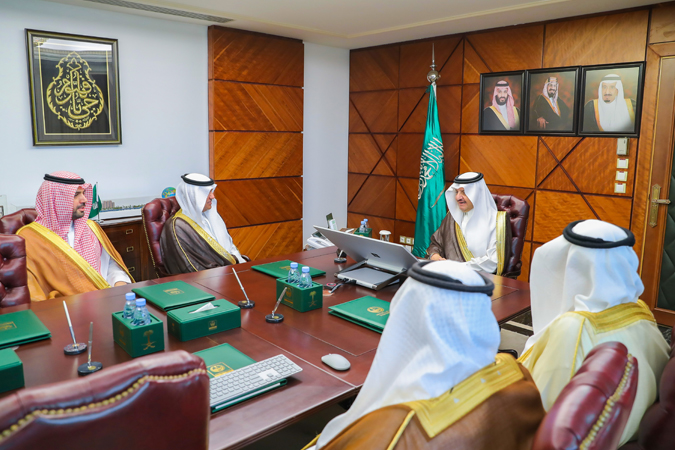 His Royal Highness Prince Saud bin Nayef bin Abdulaziz, Governor of the Eastern Province, has welcomed the members of the board of directors of Mujassam Watan Initiative, together with the winners of 4th cycle of the competition in the roundabouts and public squares tracks for the Saudi Memorial, Al Ahd, and Oath roundabouts.
HRH Prince Saud praised the winners for their creations, describing them as beautiful pieces of heritage that are worthy of national pride. He also thanked the contributors from the private sector for their interest in the beautification of the Eastern Province and their cooperation with municipalities to enhance the visual scene of the selected areas.
"Competition among individual creators and institutions is important, and its outcomes are always highly positive" said Prince Saud. "We look forward to seeing these works continue to improve the lives of the local community."
His Royal Highness also thanked Al Fozan Social Foundation for establishing the Mujassam Watan initiative and Zamil Group Holding Company for building the winning project in the 3rd cycle (ubyah Roundabout).
Abdullah bin Abdullatif Al Fozan, Chairman of the Mujassam Watan Competition, thanked HRH Prince Saud for his tireless support to the competition and expressed his gratitude for the backing it receives from the public and private sectors. He reiterated the competition's role in creating opportunities for young talent and shaping a more beautiful urban environment, stating that the contest turns creative ideas into reality and offers a better quality of living for all.
Dr. Mashary Al-Naim, the Secretary General of the Mujassam Watan Competition, revealed that 4th cycle has witnessed the greatest number of participants yet, with twice as many competitors as last year. He also stated that the competition serves as an important platform for promoting creativity and encouraging talented young people to share their visions with the world.
Dr. Al-Naim added that the competition fosters a culture of outdoor art that is vital to the quality of life across Saudi cities, saying that the competition's management was keen to add more unique and inspiring elements that expressed national unity and highlighted the Kingdom's authentic heritage. He pointed out that the winning projects had been selected from among 30 shortlisted for 4th cycle prizes.
HRH Prince Saud honored Zamil Group, represented by the group's Chief Executive Officer Adib Al-Zamil and the group's Director Musaid Al-Zamil, for building the installation at Ubyah Roundabout. He also honored the winners, Dr. Omar Husammudin Mohammed; Dr. Sarah bint Abdullah Al-Ghamdi, and Eng. Abdurrahman bin Omar Al-Shihri.
Mujassam Watan is an annual competition focusing on the designing of creative, symbolic, and artistic landmarks that express national unity and the history of the Kingdom of Saudi Arabia. The winning projects are built in one of the Kingdom's public areas or squares and inaugurated each year on Saudi National Day.
Source: https://www.spa.gov.sa/viewstory.php?lang=ar&newsid=2393078
Explore More News