Extra offers "Al-Bairaq Sculpture" to the nation in Al-Khobar and Abdullah Al-Fozan confirms his commitment to supporting the aesthetic aspects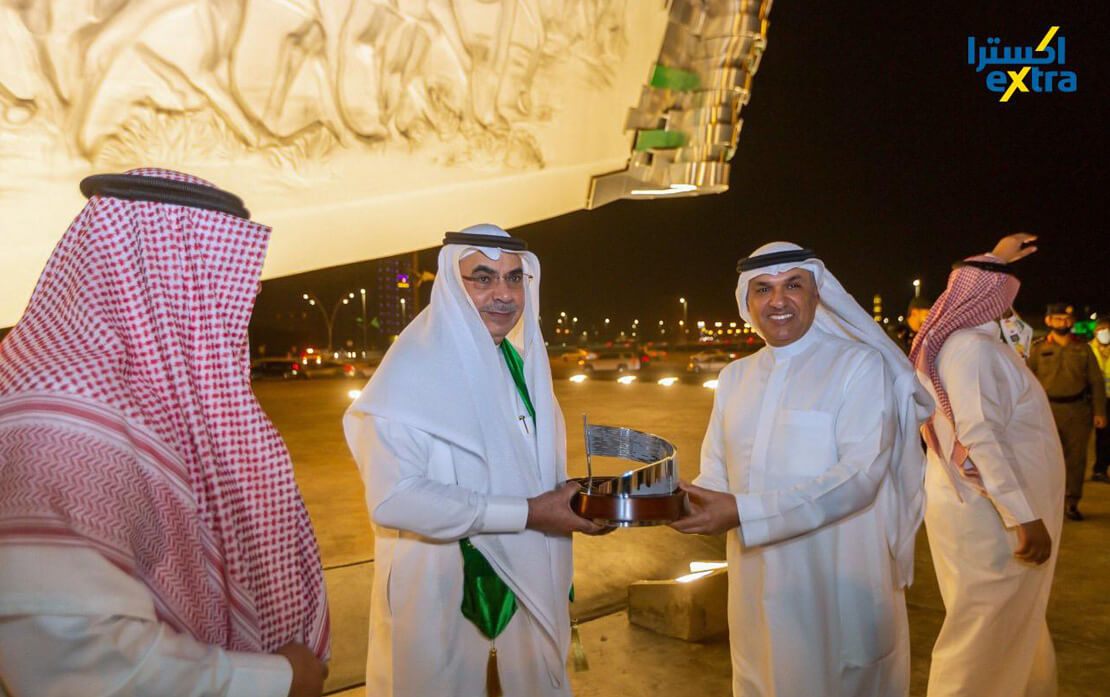 Eng. Fahad Al-Jubeir, mayor of the Eastern Province, inaugurated Al-Bairaq roundabout in Al-Aziziyah neighborhood in Al-Khobar, in the presence of Abdullah bin Abdullatif Al-Fozan, Chairman of United Electronics Company "Extra" and Eng. Sultan bin Hamid Al-Zaidi, mayor of Al-Khobar Governorate.
"It is out of social responsibility and in support of the efforts exerted in the development and growth of our dear homeland. We confirm our commitment as a private sector to our contribution to support the aesthetic aspect in all cities of the Kingdom. We also look forward to seeing more distinguished initiatives in the coming years by our sons and daughters in "Mujassam Watan" in order to give the best for this generous nation," said Al-Fozan.
Al-Fozan praised the role of the Eastern Province Municipality and its continuous support for such initiatives as well as its adoption of young Saudi talents to provide projects that accommodate their creativity and enhance the meanings of national unity, in addition to instilling the meanings of loyalty and citizenship in the future generation. Al-Fozan also appreciated the role of Al-Khobar Municipality in facilitating all procedures and contributing to the management of the project, which had a great impact on the implementation of Al-Bairaq roundabout sculpture in a way that meets the aspirations of "Extra" and achieves the sculpture's social and national dimension.
Eng. Sultan Al-Zaidi, mayor of Al-Khobar Governorate, added that the design of Al-Bairaq roundabout focuses on the Kingdom's distinctive nature, especially the desert and sand dunes. Modern techniques were used in its design, and the panels were manufactured by highly experienced Saudi engineers and supervisors, indicating that this project came in partnership with the private sector with the aim of raising the values of community partnership in order to serve the region.
The inauguration of the roundabout comes in line with "MW Award", which is considered one of Al-Fozan's initiatives for community service. It is an annual initiative that urges innovation and generating fresh ideas that express national unity and belonging to the Nation and contributes to enriching the culture of artistic sculptures in public places in order to add an aesthetic touch to Saudi cities.
It should be noted that the United Electronics Company "Extra" was the official supporter in building Al-Bairaq Roundabout, as the idea of building this sculpture embodies the dynamic movement of Al-Bairaq, represented by the rippling flag, and the inbuilt inscriptions perpetuate the Saudi civilization, starting with the Kingdom's establishment and confirming the future vision.
Explore More News