Al Fozan Social Foundation Donates 68 Million SAR to Jood Eskan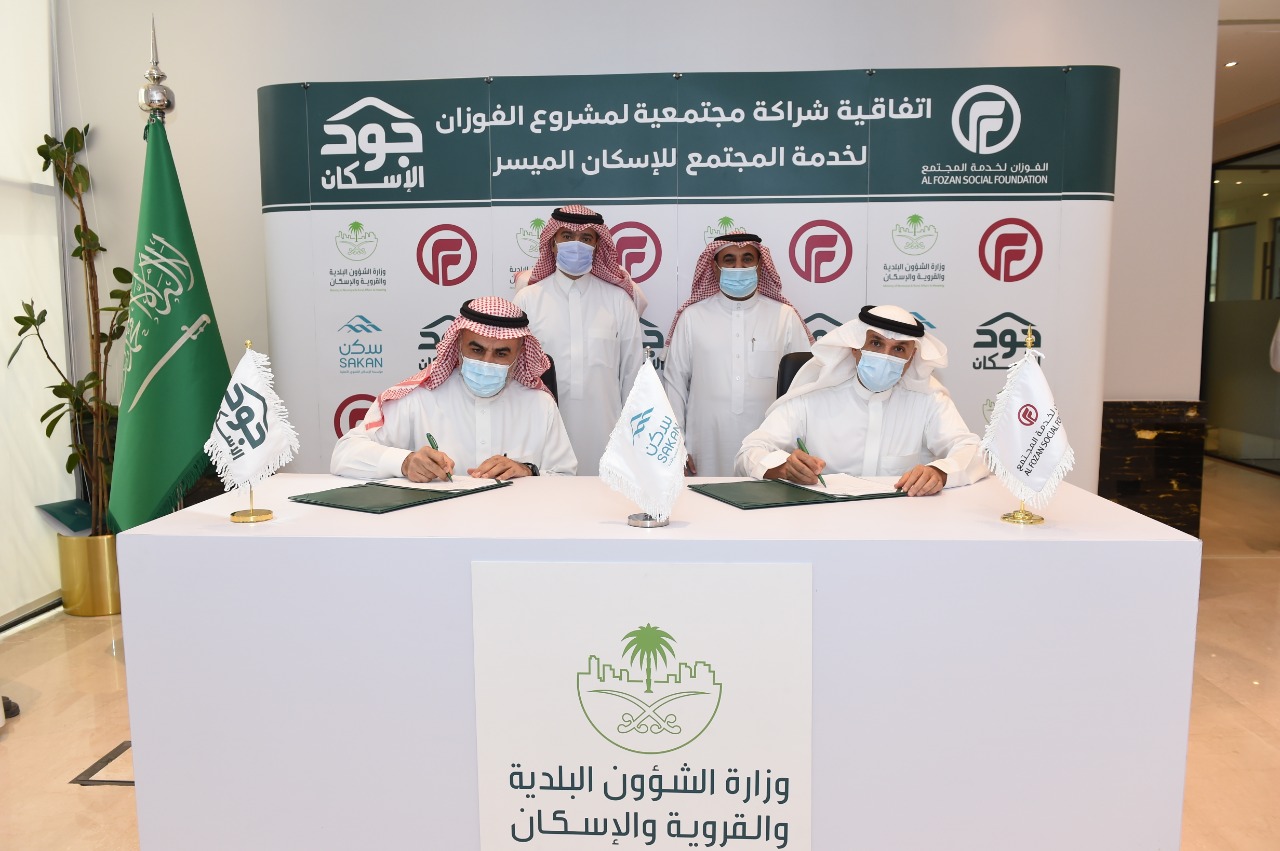 This initiative strives to achieve the objectives of the Kingdom's Vision 2030 by empowering the non-profit sector and providing suitable housing support for the families most in need.
 Al Fozan Social Foundation signed an agreement with the Sakan Foundation to provide 178 housing units valued at 68 million SAR to provide housing solutions for the beneficiaries of the Jood Eskan platform. This project is expected to benefit more than one thousand people in the Eastern Province of Saudi Arabia; making this cooperation the core of a qualitative, nationwide model seeking to achieve the goals of Vision 2030, sustainability, and social development for beneficiaries.
For his part, Minister of Municipal and Rural Affairs and Housing His Excellency Mr. Majid Al Hogail praised this generous donation, stating that the Kingdom's national companies continue to contribute as part of their social initiatives. He applauded the efforts of Al Fozan Social Foundation to achieve its mission and social role by promoting housing stability for the families most in need by donating the project to the Jood Eskan Housing platform, which provides sustainable housing units for beneficiaries within the Al Fozan Facilitated Housing Project.
Chairman of the Board of Trustees of the Al Fozan Social Foundation Mr. Abdullah bin Abdullatif Al Fozan confirmed that this step is a continuation of the program's role in advancing the community and fulfilling its needs in different areas. He added that this stems from the social responsibility of the creators of the foundation, who launch and sponsor quality initiatives that make an impact on the community, at the forefront of which are the developmental housing projects that help achieve family stability for beneficiaries and provide them with sustainable housing solutions.
Chairman of the Board of Trustees of the Sakan Foundation Dr. Ziad Al Hogail praised the donation made by Al Fozan Social Foundation and thanked the program and its creators for their initiative, which is a facet of community partnership and inter-sectoral integration to improve the services provided to citizens and achieve the objectives of Vision 2030 and the Quality of Life Program.
Al Fozan Social Foundation is a leading national social responsibility program that oversees several quality initiatives in the fields of education, architecture, social and technical rehabilitation, technology, the environment, and quality of life.
Explore More News